[adsense_id="1″]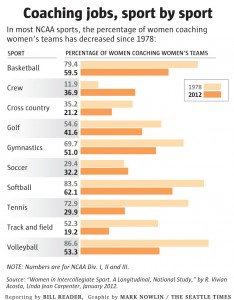 The National Collegiate Athletic Association (NCAA) is a nonprofit made up of roughly 1,280 institutions, conferences, organizations and people who organize and monitor athletics in the U.S. and Canada.
The NCAA says is oversees 89 different championship tournaments in 23 collegiate sports. It represents the interests of more than 400,000 student athletes across three divisions and more than 1,000 universities and colleges.
About the NCAA
The NCAA is headquartered in Indianapolis, Indiana, though not all of its positions are located in this office. Presently, the organization is structured by committees that include representatives from member schools and organizations, some of which are centrally located for different conferences and regions.
NCAA staff develops rules for competition and provides support to schools, research organizations, and the public. They often serve as a liaison between the public and the players.
Currently, sports sanctioned by the NCAA include:
basketball,
baseball (men),
bowling (women),
cross country,
fencing,
field hockey (women),
football (men),
golf,
gymnastics,
ice hockey,
lacrosse,
rifle,
rowing (women),
skiing,
soccer,
softball (women),
track and field,
swimming and diving,
tennis,
volleyball,
water polo,
wrestling (men).
Interested in HQ Work?
The NCAA divides its openings into two different categories: national office openings and college athletics openings.
The national office staff has the goal of:
Maintaining the highest standards of quality and professionalism by working together in an environment that promotes respect, communication and teamwork; by encouraging professional growth and training; by supporting creativity and vision; by seeking out diversity; and by fostering individual empowerment and personal well-being.
Available positions in the national office include things like:
Future Opportunities in Academic and Membership Affairs
Director of the NCAA Sport Science Institute
Customer Service Assistant
Administrative Assistant of Academic and Membership Affairs
These positions tend to support regulatory compliance for organizations and NCAA-covered colleges. Some also work with local and national governments to help the NCAA develop appropriate policies as well as help colleges and universities understand and abide by NCAA legislation.
Entry-level positions with the NCAA national office largely center on customer support and relationship building between NCAA staff and the schools that compete in its competitions. Others include the same type of outreach but angle it at students heading to college and high schools with strong sports players or programs.
Other positions will work with NCAA bodies and committees such as its Sport Science Institute (SSI). These help the NCAA develop regulations and recommendations around specific topic areas and help members understand related risks or measures around given topics. The SSI, for example, often works with football programs to educate players and teams on the dangers of improper equipment use and game hazards such as concussions.
Posts that work for specific institutes within the NCAA tend to required Masters or Ph.D. candidates with specialized degrees and training in specific fields.
Many of the posts you'll find on the NCAA's website are left there as ongoing positions and openings, filled as the company finds the need, so they may not actually represent an open or available job at any given time.
College Job Postings
Since the NCAA is a governing body for more than 1,200 member institutions, conferences, and organizations, many of these members use the NCAA's job pages to advertise their own openings.
The "NCAA Market" is a job board that features these college-based jobs and averages roughly 250 to 400 jobs at a time, according to the site. It will allow you to search by school or sport and build a resume so you can quickly submit an application or find related jobs to your expertise. It also includes alerts for jobs in certain fields or locations.
Jobs posted on this board focus largely on coaches and assistant coaches for various sports, though the sports tend not to be the most popular sports in large markets. If you're looking to expand your career into coaching, it can provide you a great way to find an assistant or head coach position with an upcoming college or university.
For jobs in large markets, postings tend toward the external relations or director type of work. This can include positions that would oversee recreational services, the compliance side of athletics, or even director-level jobs for athletic program management.
Major universities also use the board to find public relations and media team members as well as new staff that contain skillsets outside of the sports arena. This includes information systems and big data analytics alongside marketing and alternative therapy specialists.
If you've got a favorite university you want to work with, it's worth a check no matter what point you're at in your career. Postings range from director-level offerings to unpaid internships. Benefits
The NCAA is proud of its progressive work benefits beyond its work hours, casual dress code, and compensation packages.
The organization guarantees 9 federal holidays (though employees report additional closings and days when the office is engaged in team-building activities and games that provide an office "staycation" of sorts).
Full-time employees get 18 days of leave each year until their 10th year, when it rises to 23 days of annual paid leave. Up to 10 unused days can be carried over from year to year.
If you're expecting or adopting, the NCAA gives you 15 days of paid leave around the birth or placement of a child. They also adhere to federal guidelines that help secure your job if longer periods of time are needed, though these are unpaid typically.
If you're in love with a job but don't live in the area, apply anyway! The NCAA offers administrator-level hires assistance when it comes to relocating, including deals with realtors and footing the bill for you to visit and go house hunting one time.
The NCAA also offers a suite of tuition, loan, and legal services. If you pursue a degree or a job-related course after you've been employed by the NCAA for one year, they help pay as long as you keep your grades up.
The organization also offers loans to some members based on salary, as well as legal consultation for contracts and other works at least once a year.
And of course, full-time workers and interns can get two tickets to an NCAA championship of their choice!